My Renaissance Faire Experience
(How's that for an original title? ;)
My first faire was the New York Renaissance Faire. I didn't get many pictures from this one, unfortunately. It was quite inspiring, however, and has turned me into a renfair junkie.

Please join me as I give you a tour of the Michigan Renaissance Festival through my camera's eyes. Please click on the image for a better view.
Uh oh, mom. I've made a friend.
This gnome... uh troll? Whatever it is, it followed me around trying to smell me! How very strange...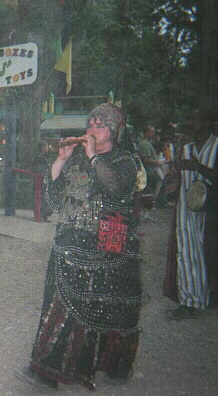 Move aside please, the parade is coming through!
This, uh, gypsy lady made fabulous middle-eastern music with her, uh, horn... thingy. (Please bear with me as I try to figure out what I'm talking about.)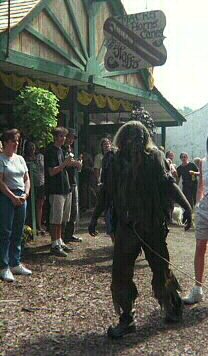 Just between you and me, this troll was weird! People would throw him peanuts and he would eat them from the ground, for instance, as he dragged his poor dog along by a rope!



Ahhh, the nobility on their way to the Queen's court. Must be fabulous to rich, but it must also be pretty hot under all of those clothes!


Here she comes! (I believe that is the King or the Prince or something behind her.)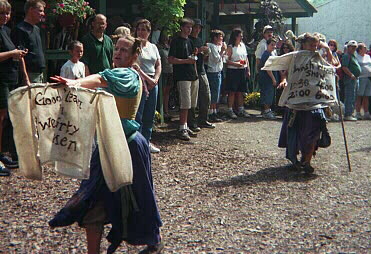 Now for the BEST part of the parade... the WENCHES!!! More on my fave duo later...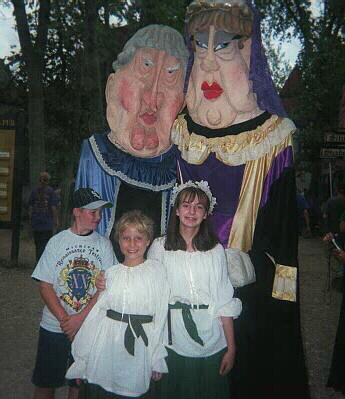 Now we took some time to pose with some interesting characters. Just for your information, I am the tall one with the wreath in my hair, my sister Melody is next to me, and our friend Andy next to her.



Andy and I bow to Queen Melody in a local tavern.






Melody posing by a horse, one of her favorite mammals at the Renfaire.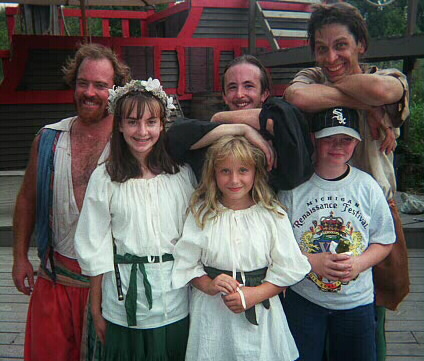 Now on to the Ded Bob Show. These guys are hilarious, not to mention nice enough to pose for a picture with us!




I pose with my good friend, Sir Andy.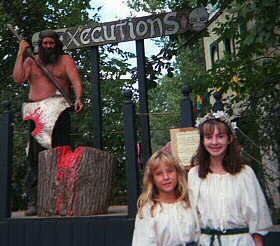 This is not a pretty sight, folks. Especially since it costs $1 to get a picture up there with that guy. We figured we'd just get a picture down in front... and then run like mad!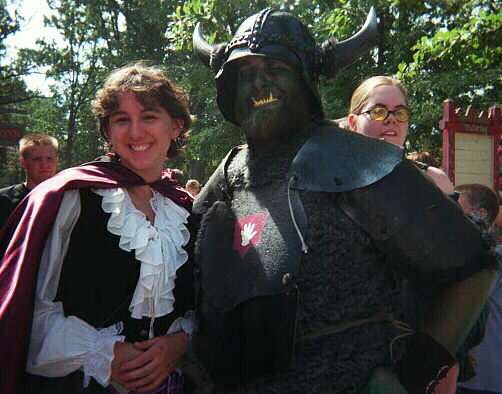 This funny looking guy had the whole horn and teeth thing going on... so I took a picture of him and his girl.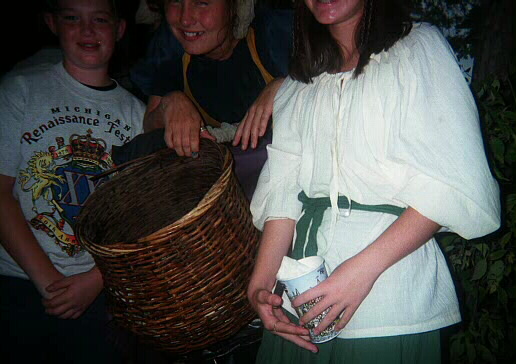 Now it's time for the BEST part of the Renaissance Faire... the Wenches!!! Aw, c'mon dad! You can take a better picture than that! (That's supposed to be Andy, my favorite Wench, and I.)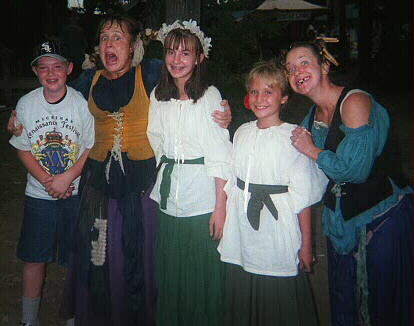 Much better, dad. There they are! The Wenches were nice enough to take a picture with us, I was beyond thrilled! They're like movie stars to me. The one in orange is my favorite, but I love Olive too!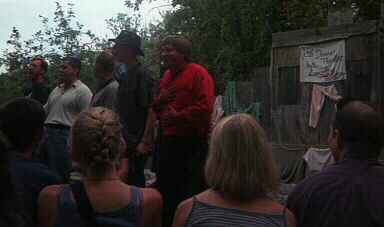 Uh oh, my dad (in the red) is being gutsy trying to get a rose from the Wenches! He should know, of course, that women never give anything away for free...


Well, that's all folks. If you wish to learn more about myself and all of the many interesting things I do, then please visit my homepage.
Fare Thee Well!!!